Yurts originated in Mongolia, a vast country with a great variety of landscapes (such as steppe, the Gobi desert and the Altai Mountains), where they are called "ger". Yurts have long been the traditional dwellings of the nomadic peoples of Central Asia, who migrate with them to find pastures new and shelter from the glacial north wind in the winter.
SPECIAL OFFER
7 – 31/7 and 14 – 20/8
for 4 persons
unique week-end in a traditional yurt for only € 79
minimum 2 nights rental, according to availability
---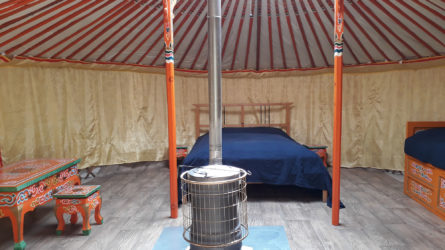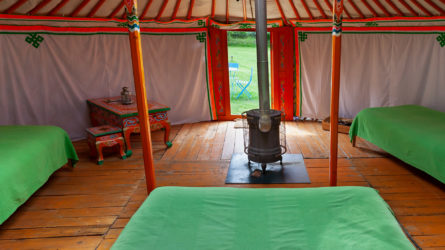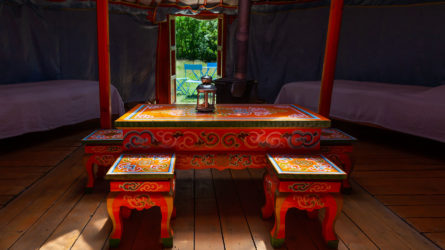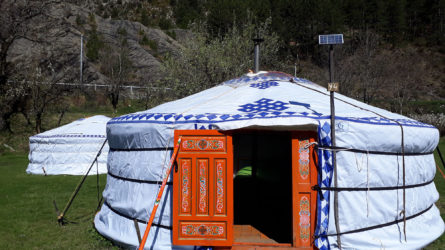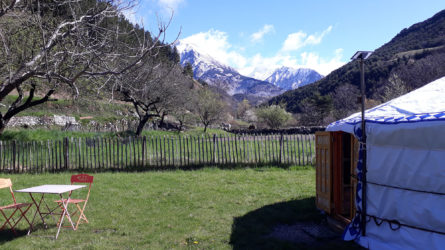 The yurt: a space for meeting, relaxing & living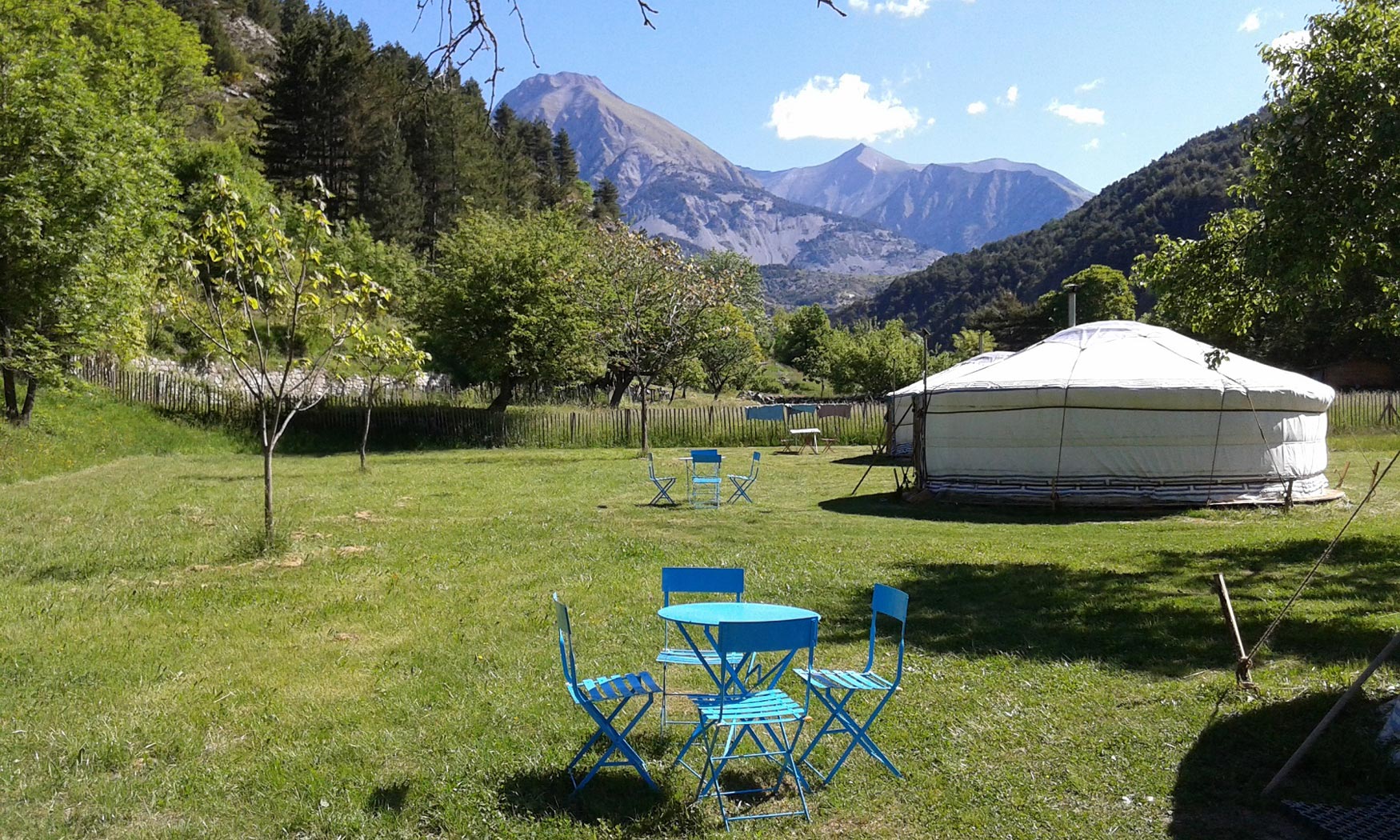 ---
Our campsite offers traditional yurts of 26 square metres, which are comfortably fitted out to accommodate up to 4:
Among them, our couple's yurt has a large bed and a Mongolian sofa that can be converted into a single bed – ideal for a couple by themselves or with one child. A Mongolian sink rounds off the equipment in this yurt.
The four other yurts all have single beds for 2 to 4 and a low table with stools.
4 of our Mongolian yurts – including the couple's yurt – have a wood stove for use during the months when nights are cold (April, May, June, September, October).
All our yurts are close to the sanitary facilities.
Lighting is provided by solar lamps (there is no electricity in the yurts).
---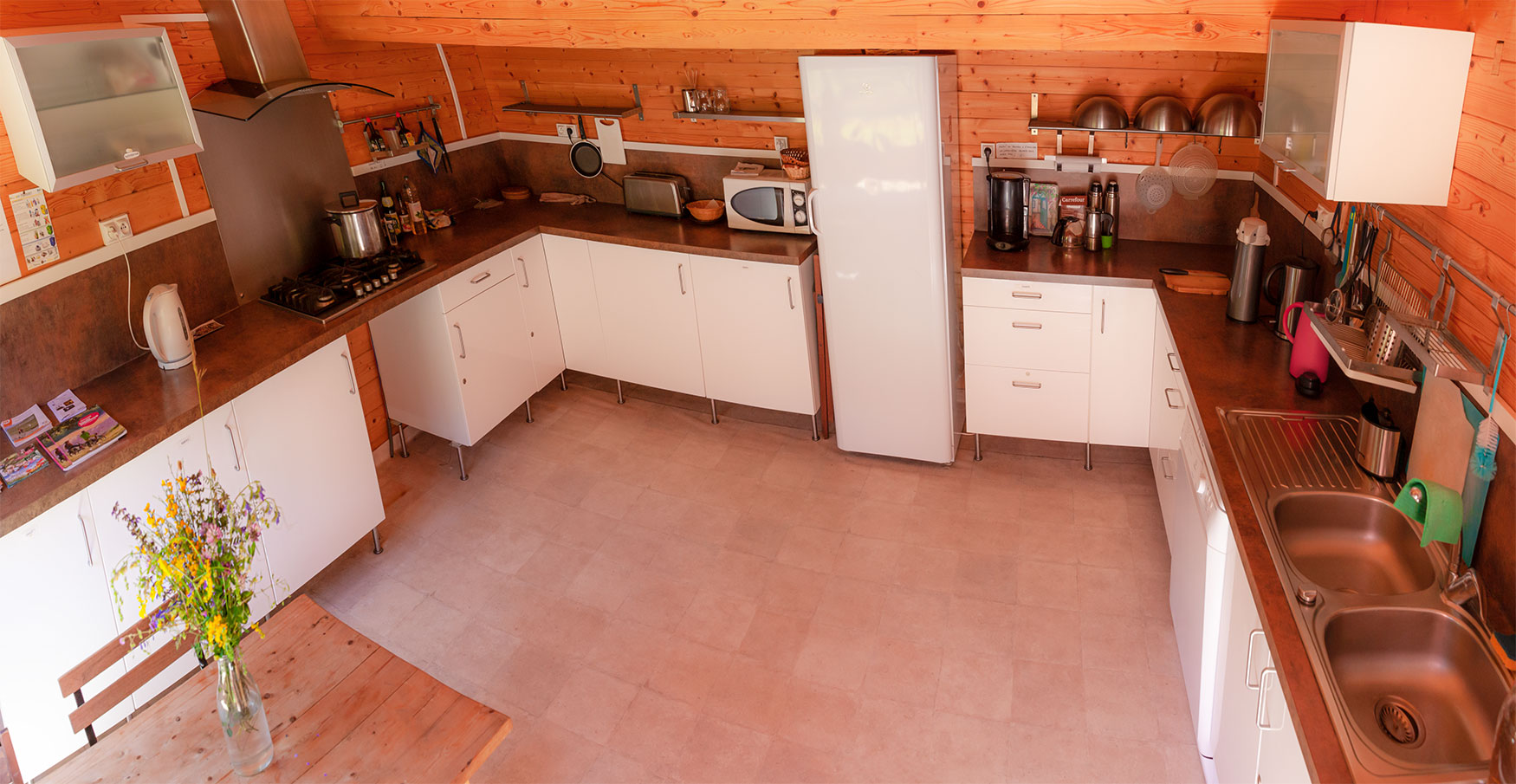 Communal kitchen
The communal kitchen is reserved for our chalet guests and optionally for those staying in the yurts. It is equipped with:
A five-burner gas cooker; a dishwasher (reserved for groups/families of 6 or more); a microwave; a fridge; a coffee machine; two kettles; a toaster; crockery with cutlery, kitchen utensils and storage cupboards. An internal and an external sink.
The countertops have enough space for everyone while encouraging you to meet your fellow-campers and exchange recipes!
Adjacent to the kitchen is a refectory-tent on a wooden deck with tables and benches for sheltered meals in any season (wheelchair-accessible).
Of course, you can also use your cooking gear in front of your yurt, or try the local cuisine of the Trois Evêchés inn in the village (200 m from the campsite), or in one of the restaurants/bistros of the Digne-les-Bains area.
---
Mandala Yurt: a space for activities and introspection
This contemporary yurt of 41 sq m is available as a workshop space by the day, or for a weekend or as accommodation in low season.
Made in France and set up without insulation, this is a light and spacious yurt, perfect for yoga, meditating or arts. It hosts our yoga sessions during the summer and during our week-long Hiking & Yoga holidays.
Depending on the season, this yurt, which sits on a handsome larch floor and has no furnishings, can also be used to accommodate groups looking for inexpensive accommodation that is more comfortable than a tent.
Why not organise your courses on our campsite, using the large yurt as the activity space! The chalets and/or yurts will provide you with accommodation in calm and natural surroundings, far removed from the tourist thoroughfares.
Contact us for an attractively-priced proposal tailored to your project.
---
Rates 2022 for our yurts
We make every effort to offer you attractive rates and a high-quality welcome.
Tarif Yourtes 2022
Quand?
*Yourte des Amoureux
2/3 personnes,1 lit double, 1 lit simple
*Yourte famille
4 personnes, 1 lit double, 2 lits simples
*Yourte amis/groupes
4 personnes, 4 lits simples
Chacune a 26m², Sanitaires collectifs
Yourte Mandala
non équipée
44 m²
Basse saison
30/04 – 03/06
28/08 – 30/09
Arrivée 16 à 18h, départ 11h
249 € / semaine
45 € pour 2 pers. / 65 € à partir de 3 pers.

220 €
55 € / jour, tarif stage

Moyenne saison
04/06 – 06/07
21/08 – 27/08
Arrivée 15 à 19h, départ 10h
349 € / semaine
50 € pour 2 pers. / 70 € à partir de 3 pers.
Activités uniquement
Haute saison
07/07 - 30/08
14/08 - 20/08
Arrivée le dimanche, départ 10h
489 € / semaine
150 € les deux nuits, 79 € la nuit supplémentaire
Activités uniquement
Très haute saison
31/07 - 13/08
Arrivée le dimanche, départ 10h
519 € / semaine
à la semaine uniquement
Activités uniquement
- week-ends fériés minimum 2 nuits
- séjour à la semaine : accès chalet cuisine inclus
- court séjour: cuisine en option 3,50 € / jour / personne +6 ans
non incluse: taxe de séjour 0,66€/jour/pers. >18 ans
Options & Services
Kit draps 1 place
8 € par séjour
Kit draps grand lit
10 € par séjour
Kit draps jetables
4,00 €
Forfait ménage
45 €
Kit bébé (lit & chaise haute)
(sur réservation)
3 € par séjour
(du 4/7 au 22/8)
Chauffage (Chalets)
3 € / jour
Tente supplémentaire
4 € / jour
(du 4/7 au 22/8)
Lave-linge
4,00 €
Dose lessive
1,00 €
Animal
(non admis à l'intérieur des chalets)
3 € / jour
Location frigo
(sur réservation)
6 € / jour
100 € caution
Location rechaud
(sur réservation)
3 € / jour
Petit déjeuner
8 € par personne
Accès à la cuisine collective
(inclut dans les tarifs Chalets et à la semaine)
3,50 € / jour par personne < 6
ans
Visiteur à la journée
3 €
Douche visiteur
3,00 €
Jeux
(ballons, Badminton, Tennis de
table,Frisbee...)
gratuit
Livres à disposition sur échange
Étendoir
(derrière les chalets)
gratuit
Massages (juillet/aout)
sur réservation
Randonnées et sorties
(juillet/août)
voir programme
Balade ou rando avec âne
sur demande
Séances de yoga (juillet/août)
sur participation libre
(sur devis pour groupes)
Location E-VTT
la journée 40 €
demi journée (3h) 30 € 2h 20 €

Our accommodations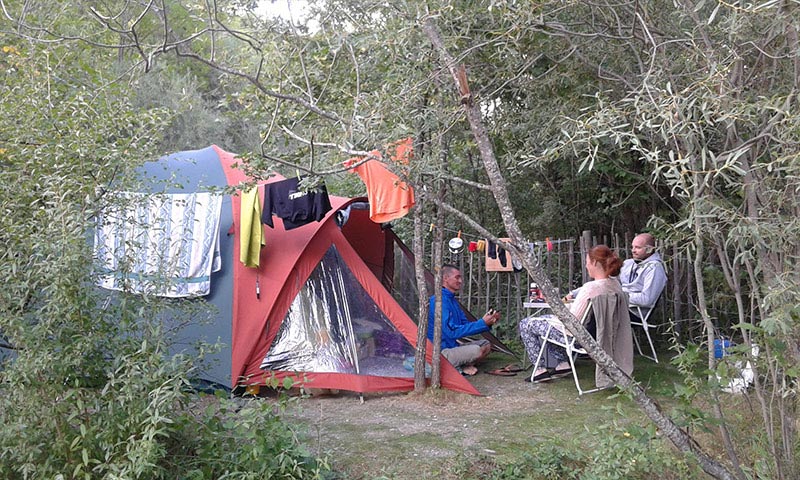 Our pitches
We offer 20 different-sized pitches on grass or sand, 8 of which have electrical hook-ups. 4 of the 20 pitches are accessible for vans, caravans or campervans. N.B.: Please contact us if your vehicle is longer than 5 metres!
See our pitches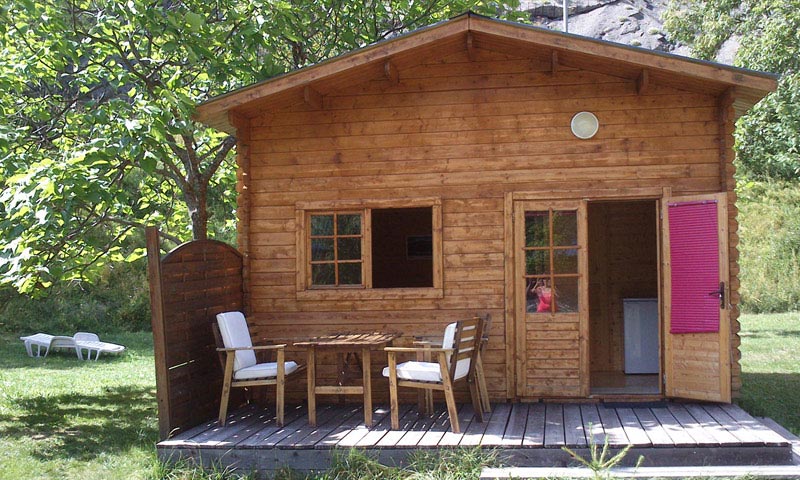 Our Eco Chalets
Our eco chalets are located in an exceptionally beautiful environment, where calm reigns. They welcome you for a holiday in harmony with nature!
See our Eco Chalets
---