Our small family campsite is on the edge of the village of Prads Haute-Bléone at an altitude of 1,040 metres. We are in a protected valley with little tourist traffic in the Alps of Haute Provence, just a stone's throw from a river.
The campsite is partially shaded, allowing you to choose a pitch in the sunshine or the shade depending on the season and your requirements. Our campsite is car-free for the sake of tranquillity, spaciousness and additional safety for children!
There is a shaded car park in the immediate vicinity of the pitches with wide and easy access. A cart is available for transporting your luggage to your pitch.
---
A back-to-nature campsite
that respects the environment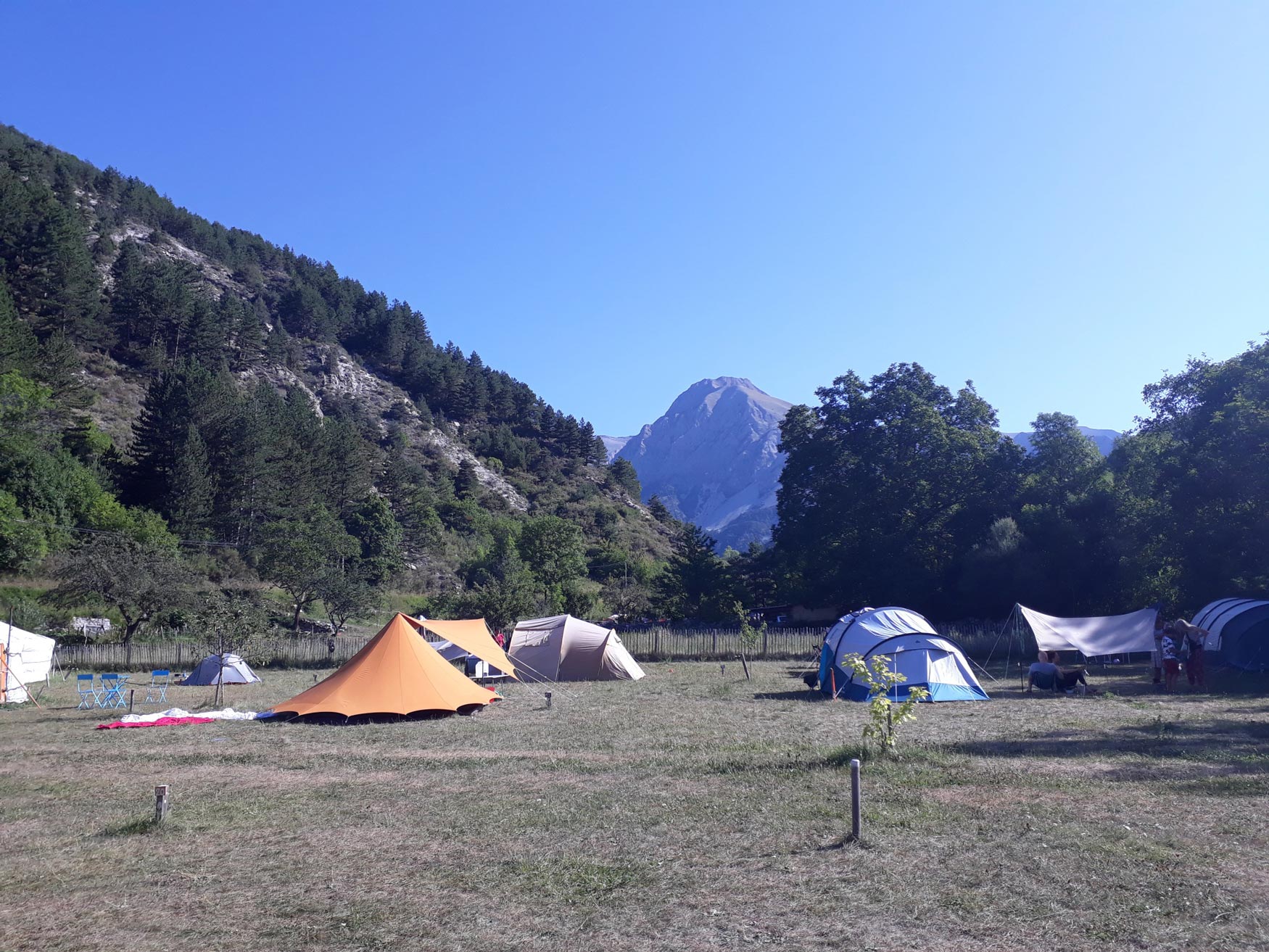 ---
Whether in a camper van, caravan, or hikers' or family tent, make yourself comfortable near the river and the sanitary facilities.
Our campsite has 30 pitches in all for a personalised welcome that is far removed from mass tourism (do remember to book ahead in July and August, when the site fills up quickly).
We offer 20 different-sized pitches on grass or sand, 8 of which have electrical hook-ups (please bring extension cord).4 of the 20 pitches are accessible for vans, caravans or campervans. N.B.: Please contact us if your vehicle is longer than 5 metres!
Don't have your own camping equipment? We can offer you one spacious tent kitted out with a large bed, a camping stove and an icebox for keeping your food chilled. Contact us!
Preserving natural resources and respecting the environment are among our priorities!
On site, there are several taps with good-quality drinking water (spring water, controlled regularly). The shower/toilet blocks with hot water are 50 metres away. We sort rubbish for recycling, including compost, and will be happy to advise you if required.
---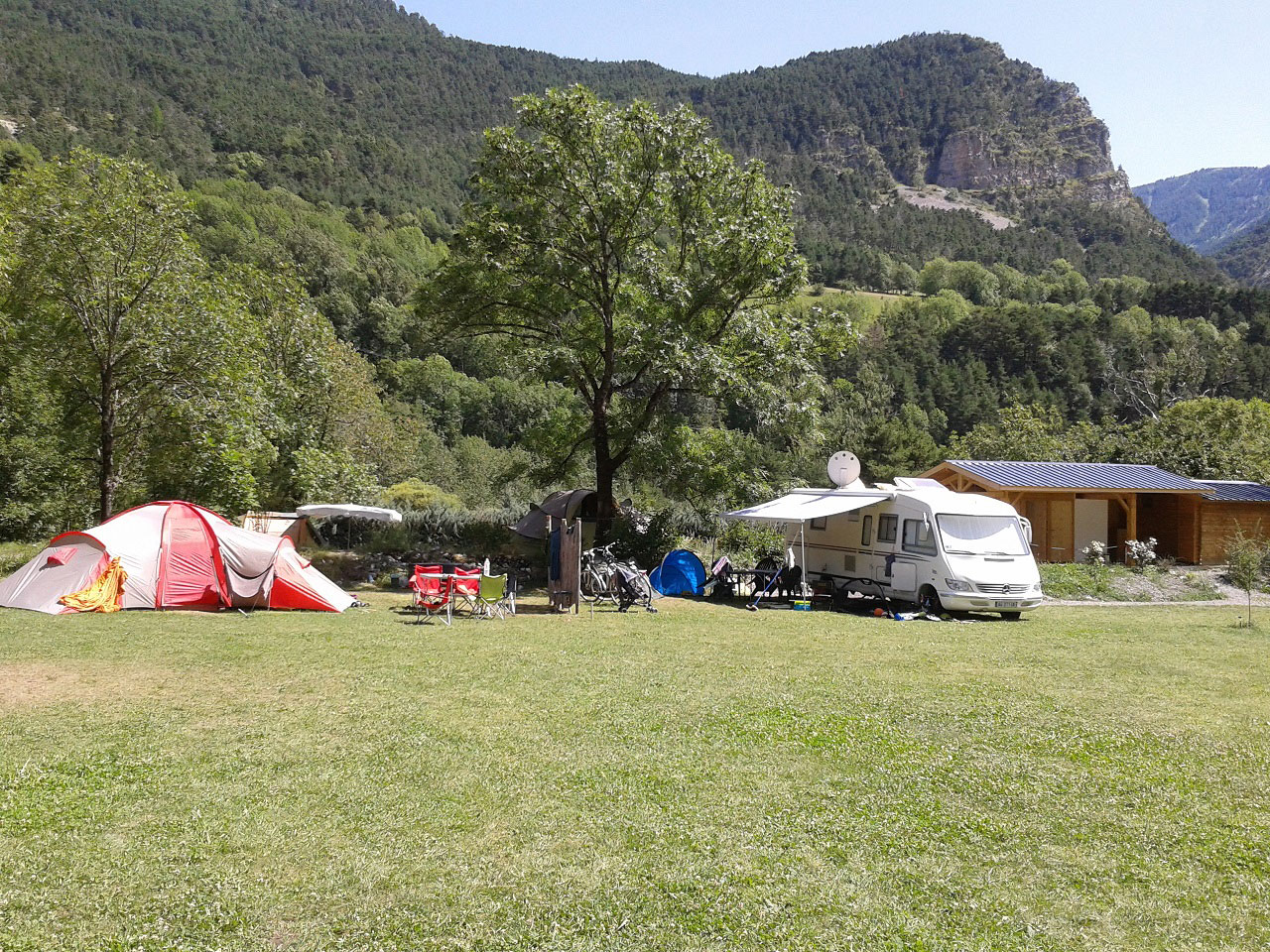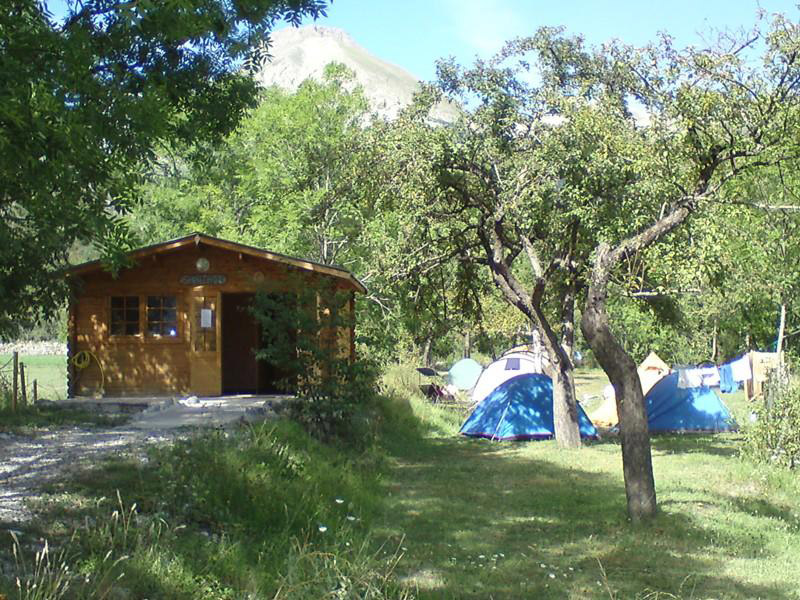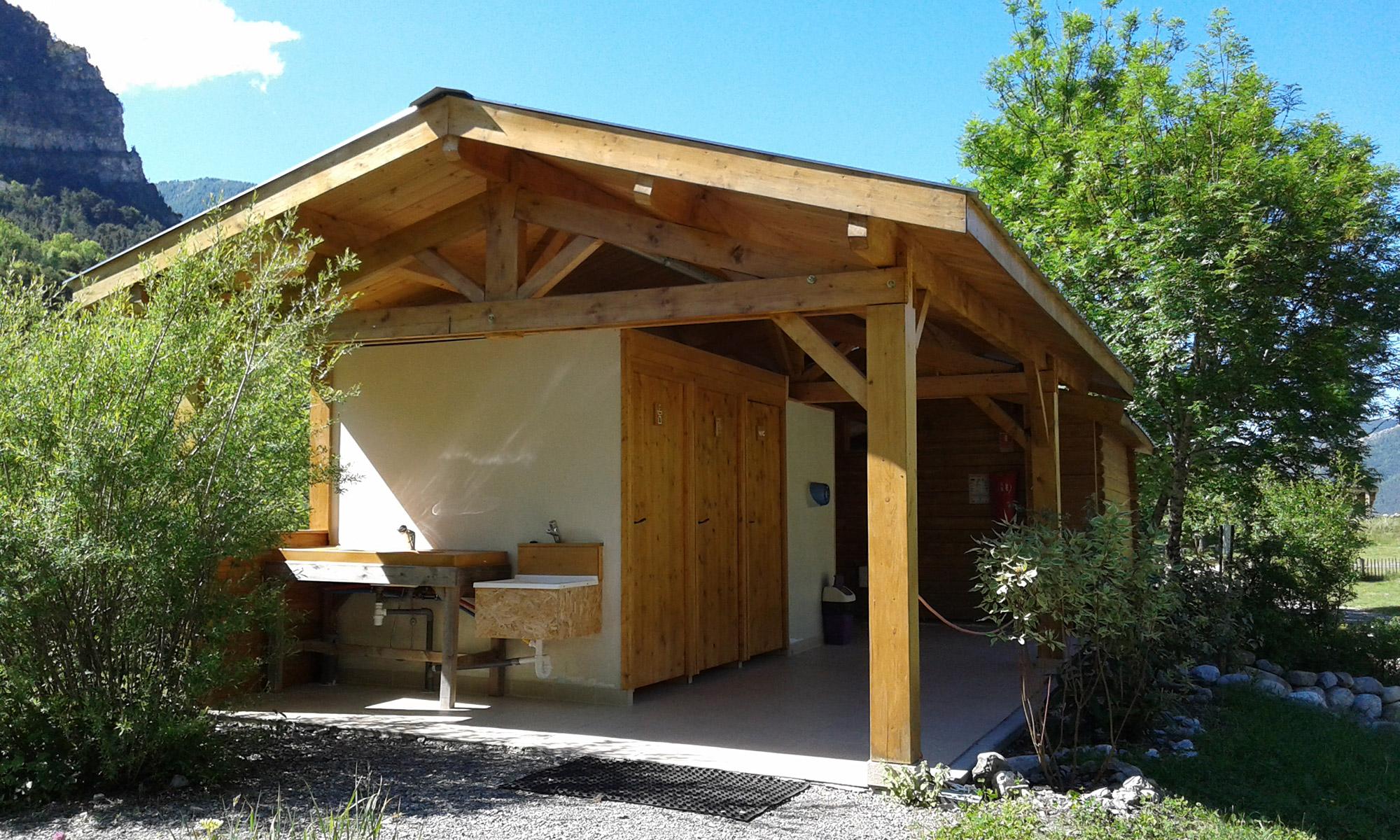 ---
A pleasant climate conducive to many activities
The campsite is at an altitude of 1,040 metres. Summer is thus the ideal season for escaping the heat wave and overcrowded tourist sites elsewhere. In July and August, temperatures are pleasant at night and hot during the day.
We make the most of this favourable climate and our exceptional surroundings to enjoy hiking and via ferrata from May to October.
In the summer months, the mountain streams are inviting spots for water hiking, canyoning (led by a professional) or simply bathing during a break!
Persons with reduced mobility
We make it a point of honour to do everything in our power to facilitate welcoming guests who have a physical disability.
Our campsite is level, making moving around by wheelchair easy.
We offer:
adapted sanitary facilities with wheelchair access (shower, toilet, sink, hot water);
a joelette (wheelchair suitable for mountain terrain);
A wheelchair-accessible chalet with sink (room for two disabled persons on ground floor and two non-disabled persons on the mezzanine).
Rates for the traditional campsite
Our rates for the traditional campsite are simple and easy to understand, and give you great value for money.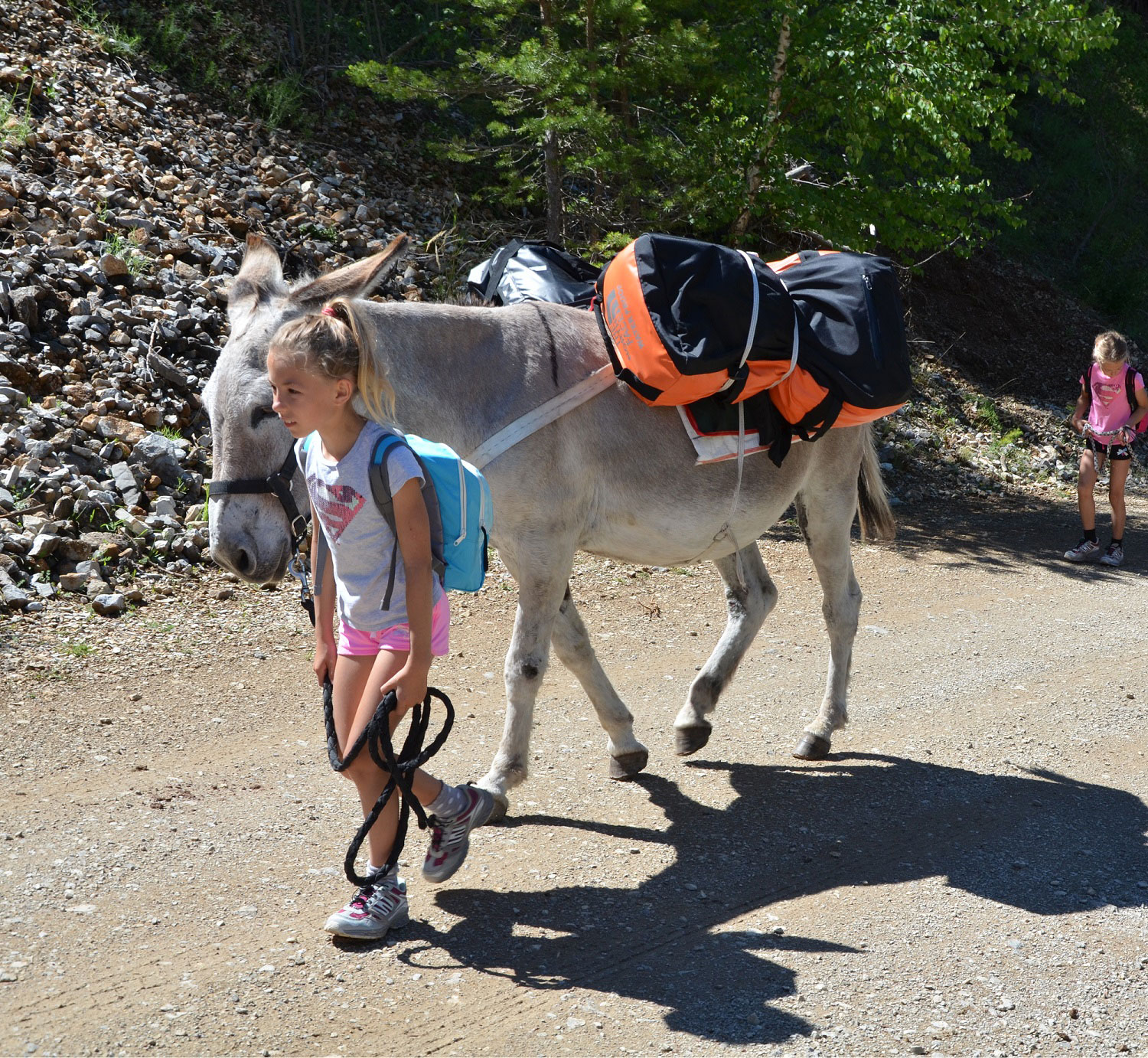 ---
Tarifs Emplacements par nuit 2023
BASSE SAISON
05/05 - 02/06
01/09 – 30/09
Arrivée entre 16 et 18h, départ avant 12h
MOYENNE SAISON
02/06 – 09/07
27/08 – 31/08
Arrivée entre 16 et 19h, départ avant 11h

HAUTE SAISON
09/07 – 30/07
13/08 - 26/08
Arrivée entre 16 et 19h, départ avant 11h
TRÈS HAUTE SAISON
30/7 - 13/08
Arrivée entre 16 et 19h, départ avant 11h
Emplacement tente
(2 pers + 1 voiture + 1 petite tente)
15 €
17 €
19 €
21 €
Emplacement Confort
(2 pers + 1 voiture + 1 tente, Caravane ou Camping car)
17 €
19 €
21 €
23 €
Emplacement tente Trekker
(1 personne, petite tente)
12 €
14 €
16 €
18 €
Personne supp. 7 ans et +
4 €
5 €
6 €
8 €
Enfant 3 à 6 ans
GRATUIT
2 €

4 €
6 €
Enfant < 3 ans
GRATUIT
GRATUIT
GRATUIT
GRATUIT
Électricité 10 A
4 €
4 €
4 €
4 €
Tente supplémentaire
GRATUIT
4 €
4 €
4 €
Animal
3,50 €
3,50 €
3,50 €
3,50 €
Location réchaud
(sur réservation)
5 €
5 €
5 €
5 €
Location frigo
( sur réservation)
8 €
8 €
8 €
8 €
Accès à la cuisine collective
(uniquement en basse saison)
3,70 €
-
-
-
Visiteur à la journée
3 €
3 €
3 €
3 €
Petit déjeuner (uniquement en basse et moyenne saison), produits locaux et biologiques
8 €
5 € / enfant
8 €
5 € / enfant
-
-
- camping-cars, caravanes : nous n'acceptons pas les vidanges des WC chimiques, prévoir de vider avant de venir si besoin
- chiens acceptés tenus en laisse, vaccinés et avec supplément
non incluse: taxe de séjour 0,66€/jour/pers. >18 ans
Options & Services EN
Sheet kit 1 pers.
8 € per stay
Sheet kit 2 pers.
10 € per stay
Disposable sheet kit
4,00 €
Baby kit (cot & baby seat)
(on reservation)
5 € per stay
(from 9/7 til 31/8)
Heater
4 € / day
Extra tent
4 € / day
(from 2/6 to 31/8
Washing machine
4,00 €
Laundry dose
1,00 €
Animals
(not allowed in chalets)
3,50 € / day
Stove rental
(on reservation)
5 € / day
Fridge rental
(on reservation)
8 € / day
Breakfast
8 € per day
Collective kitchen access
(only in off-peak season)
3,50 € / day per pers. < 6 years
Daily visitor
3 €
Visitor shower
3,00 €
Games
(Balls, Badminton, ping pong, Frisbee ...)
free
Books available on exchange
Drying rack
(behind the chalets)
free
Massages
(July / August)
on reservation
Hiking and going out
(July/August)
see schedules
Walk or hike with donkey
on demand
Yoga sessions (July / August)
on discretionary payment
(on estimate for groups)
Our accommodations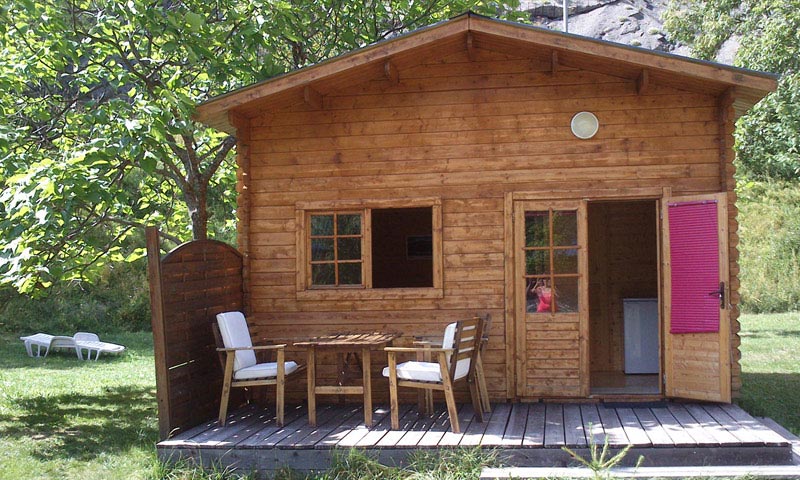 Our Eco Chalets
Our eco chalets are located in an exceptionally beautiful environment, where calm reigns. They welcome you for a holiday in harmony with nature!
See our Eco Chalets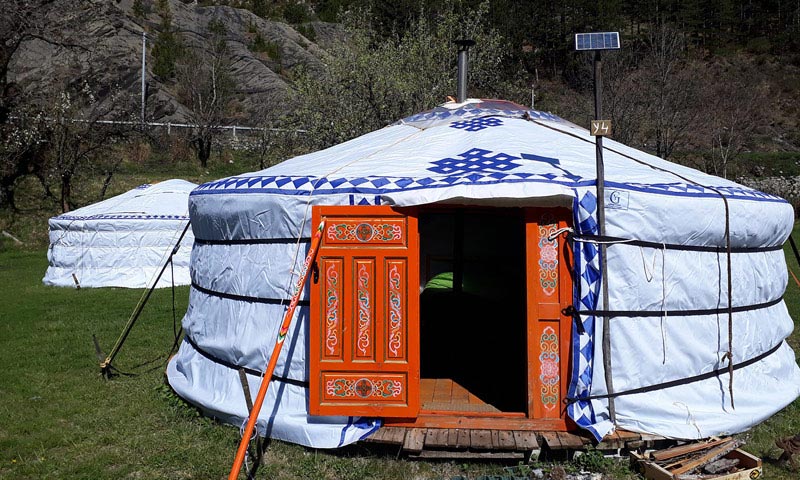 Our traditional yurts
Our 5 traditional yurts from Mongolia guarantee a complete change of scenery. Comfortably equipped with beds, table and stools and a solar lamp they are close to our all wooden sanitaries.
See ou yurts
---